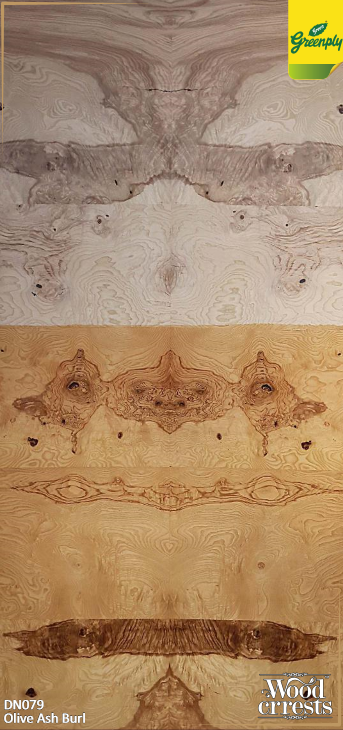 Greenply Wood Crrests 4mm Veneer Olive Ash Burl
300.00 (Incl. of GST)
Greenply Wood Crrests
Veneers So Fine , Theyre Art.

Every Species of wood is soured directly from its country of origin, to ensure superior quality and variety. The veneer is sliced in state of the art European machines, according to strictly defined parameters and under the supervision of experienced producers.
The base ply in Wood Cressts Veneers is made exclusively from hardwood species of timber like Gurjan and Keruing. It is sourced entirely from Myanmar (Burma) or Indonesia. To ensure perfect assembly and bonding during the ply manufacturing process the same species of wood is used for the core ad the face layers. a single piece of composed core is used to ensure zero core overlap or core gap. The base ply is accurately calibrated with minimal thickness tolerance and variation. Whats more, only phenolic resins are used to make the plywood waterproof.
Cities We Serve - Bangalore , Pune , Delhi , Noida , Gurgaon , Kolkata , Ahmedabad , Hyderabad , Chennai , Mumbai , Coimbatore
OliveAshBurl
255.00 Per Sqft (Incl. of GST)
Greenply Wood Crrests
4 mm
Specifications
Face Veneer Thickness

0.55MM

Base Ply Thickness

3.5MM

Base Ply Type

Keruing / Gurjan BIS Standards IS:1328

Borer Proof / Termite Resistant

Density

680 kg / CBM
More Veneer from Greenply